International Car Shipping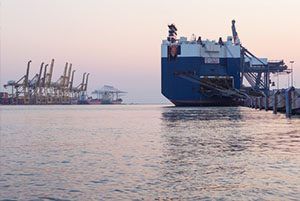 Are you looking for an international car shipping? If you are moving to a new country for a definite period of time, then you would likely to take your beloved car with you. International car shipping can be a complicated move as compared to an interstate move. Moving your car from one place to another is not an easy task and should only be handled by a professional vehicle shipping company that has experience in this field.
You can hire our services at All States Car Transport, LLC in order to transport your vehicle with ease. We offer perfect car shipping services that ensure safe transportation of your car to any desired destination without any hindrance.
Why Choose Us?
When you look for a company to handle your auto shipping needs, all you want is reliability, trust, timeliness, and efficiency in the delivery of your vehicle. At All States Car Transport, LLC, we pride ourselves to be one of the leading vehicle car carrier services in Florida. We are dedicated to providing a high-quality and professional services so that you can be peaceful knowing that our qualified experts are taking great care of your vehicle transportation needs.
From exotic luxury cars to classic vintage vehicle, we can transport any vehicle from start to finish.
Some prominent features of our services are:
• Extensive knowledge of auto transportation business and covered car transporters to accommodate all requests
• Customs and required paperwork undertaken for all types of vehicle movements
• Complete Global Service
• Notification of delivery progress
• Modern vehicles and covered trailers to guarantee a flawless delivery
• No restrictions on quantity of auto movements
• Comprehensive insurance
• Experienced car personnel
• 24/7 support and service
• And much more!
Our International Auto Shipping Services
All States Car Transport, LLC is the freight forwarder of choice for worldwide car shipments. We offer the best international car shipping solutions in the industry, by air and ocean. Our highly skilled and experienced logistics professionals coordinate all aspects of the auto shipping process to guarantee error free seamless transactions and fast delivery.
We handle all legalization, create all the documentation, and handle customs and insurance issues on your behalf while preparing your vehicle for the journey. Once in shipment, we will keep you informed and updated along the way via messages, photos, etc.
• Air Freight
All States Car Transport, LLC offers air freighter service for cars on a broad range of international air carriers worldwide. We personally supervise and monitor each and every vehicle from its origin to delivery at final destination. From BMV to Ferrari, we are the no.1 choice for international car shipping worldwide.
• Ocean Shipping
From Ro/Ro service to containers, our ocean freight car shipping options offer the most cost-effective approach to ship cars internationally. We offer various car carrier and rate options for a number of international ports of call. Our rates and quotes are all inclusive. Call us to start shipping your vehicle via ocean today!
Our services include open Car Transport, enclosed car transport, classic car shipping, motorcycle shipping, exotic car transport, luxury car transport, international car transport. Call us today at 1-877-320-2758 or visit our Auto Quote.
Follow us on Facebook.