Alfa Romeo Car Courier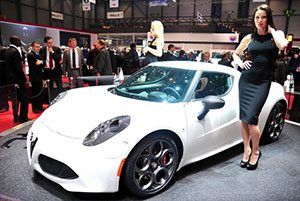 Are you looking for an Alfa Romeo car courier? For almost centuries, Alfa Romeos has been producing high-quality cars. As an Italian car manufacturer the company has been involved in car racing since 1911, and it was owned by an Italian state holding company when it became a part of the Fiat group.
We understand the hight quality transportation your car needs; that's why All States Car Transport has over 20 years of experience shipping these and other luxury vehicles Nationwide and Internationally. Nowadays, shipping a vehicle has never been easier. With our modern carriers, you can get your car where it needs to be quickly and safely.
We have years of in the car carrier industry, and we make the vehicle shipping process stress free for every customer.
Types of services which include:
Door to door pick-up and car courier service
This method makes it easy to save you a trip to the car depot. Instead, we pick up your vehicle and have it waiting for you at your new destination.
Enclosed Car Transportation
Your car will go in a container so is protected from weather conditions and any problems on the road. This one is the preferred option for luxury cars, and exotic car transportation.
Open Car transport
Your car will go with other cars where some are placed on top of the trailer, and some will go on the first chassis floor.
On-Time Delivery
If we say your car would arrive on a certain day, it will. Our vehicle transport company is getting your car where it needs to be. You can also track where your car is at any time.
All States Car Transport  – Car Courier
Our mission is to provide superior car carrier services for our valued customers delivering their vehicle(s) with a seamless process. We are skilled in providing superior expertise to ensure the safe arrival of your vehicle. Our network of carriers enables us to choose the appropriate carrier to deliver your car when you need. Place your online reservation today HERE or over the phone at 1-877-320-2758
Follow us on Facebook.